Speedway Body Shop is located at 2534 W 16th Street, Indianapolis IN, and is conveniently located between Indianapolis downtown and Speedway. Our staff prides themselves with not only returning your vehicle repaired to exacting specifications,
but maintaining a clean and friendly work place.
We offer you many exceptional services:
Key drop for early morning and late evening drop-off.
Courtesy transportation within local area.
Convenient free estimates here at our facility *.
24 hour Towing and Car Rental Services.
Written lifetime warranty on all repairs.
We want your accident to be as painless as possible. We want to take the time with each client to answer all questions and find out how we might help you best.
* There is a $25.00 refundable estimating fee if your vehicle is older than 10 years old and not insured with one of many insurance direct repair programs we participate with. The fee is refunded if you have the vehicle repaired by us.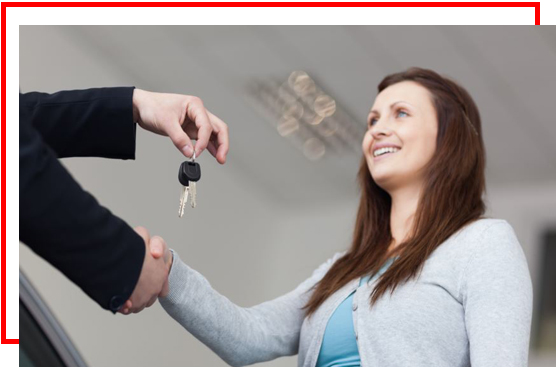 FRONT OFFICES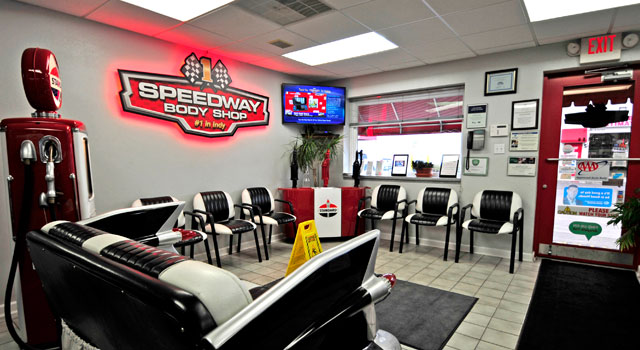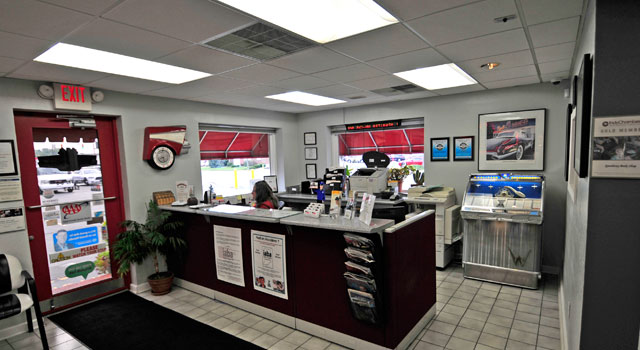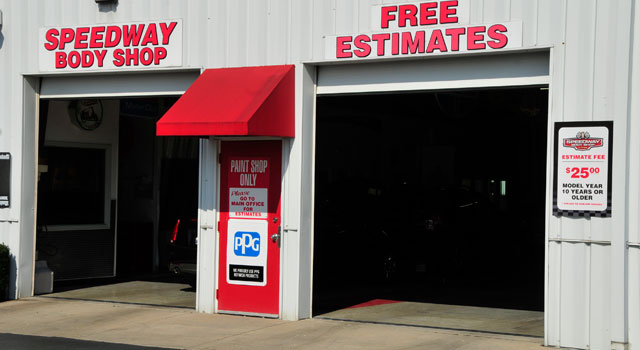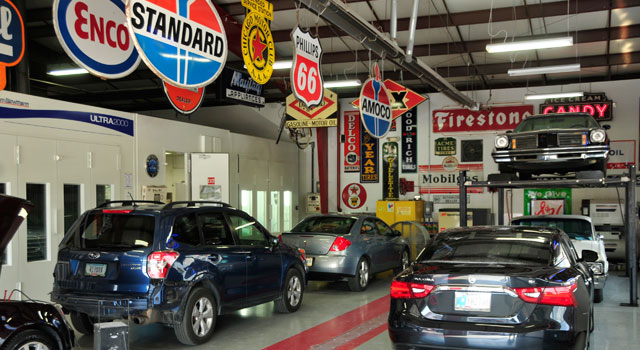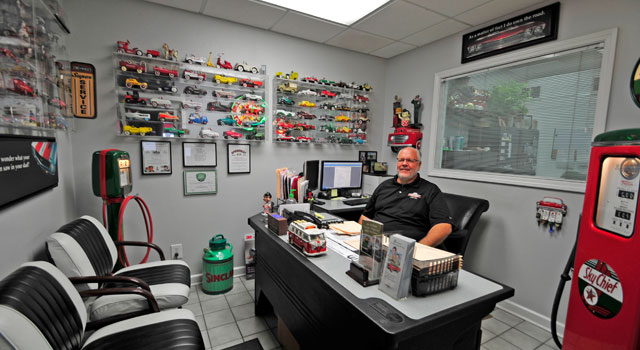 ---
BODY SHOP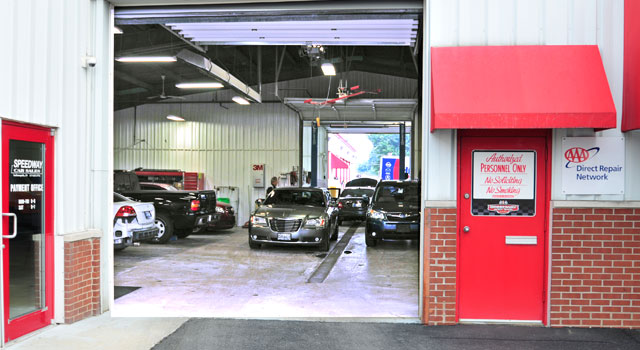 Of course, all of our technicians are highly trained and we have achieved "Gold Class" status from ICAR (Inter-Industry Conference on Auto Collision Repair) which is the industry leading educator.
We also have the latest equipment required by vehicle manufacturers to ensure your vehicle is repaired to exacting standards because your safety is our highest priority.
Sometimes mechanical components have been damaged or need to be removed to gain access to other damaged areas of your vehicle. We have all the necessary equipment to handle these mechanical repairs with customer satisfaction guaranteed.
Whether it is servicing your damaged suspension, cooling or air conditioning systems we have the expertise and equipment to make it right again.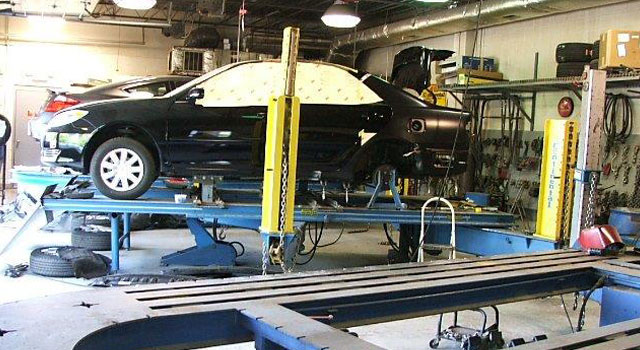 Speedway Body Shop utilizes modern frame straightening systems in case your accident was more severe. These machines are capable of multiple pulls at the same time. Coupled with our 3 dimensional measuring systems, we restore vehicles back to their factory specifications. We have specially trained technicians that are experts in structural damage, so you can have the peace of mind … it will be right !
With the latest technology in measuring, we can diagnose damage to the structure of your vehicles to within 1 millimeter. Replacement body panels can then be replaced using our state-of-the-art welding system. This system properly duplicates factory production welds.
The proper repair of collision damage is critical to the safety and performance of your vehicle. Each vehicle is repaired to factory specifications in our state-of-the-art collision repair facility. Speedway Body Shop's industry recognized and certified technicians use only the highest quality equipment, parts, and materials.
---
PAINT SHOP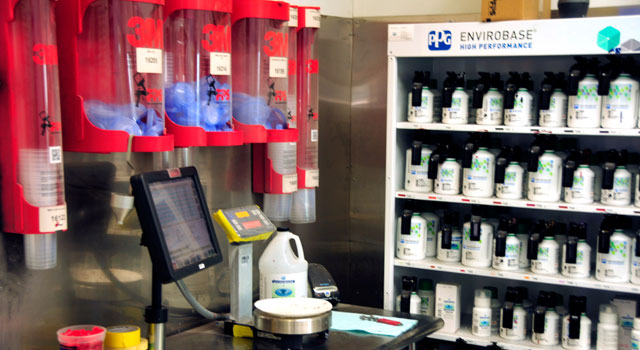 We match your vehicles finish using an environmentally safe PPG paint system. After selecting the correct color from our color computer using our "smart scale", we can custom mix and adjust colors for different variations for that perfect match every time.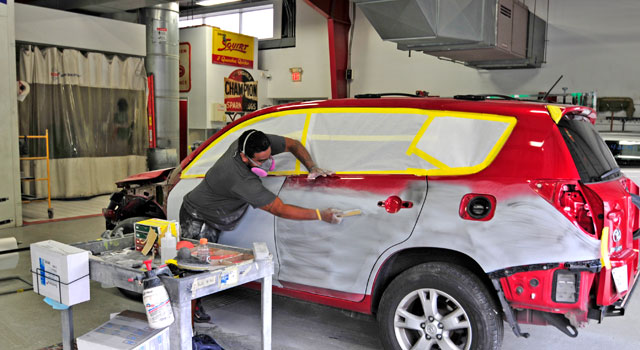 Next, your vehicle is carefully prepped for paint application using the finest materials, then masked completely to protect undamaged parts of the vehicle from over spray contamination.
This process requires our skilled technicians to perform manually to ensure the highest quality of repairs.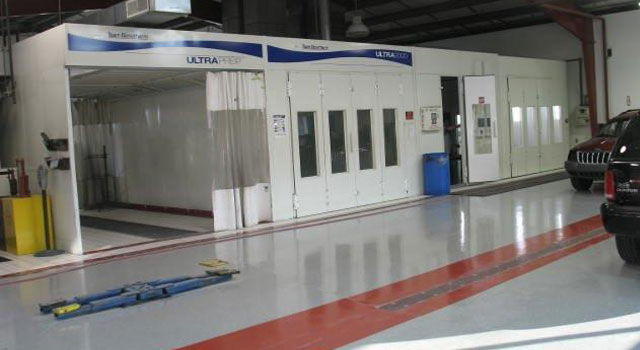 When it comes to automobiles, you can judge a car by its cover! That's why we use a state-of-the-art refinishing system. Today's modern factory finishes incorporate multiple layers of highly specialized paints. We have made a major investment in Downdraft spray booths/ovens and prep stations to ensure optimum conditions for applying today's high-tech finishes.
With all of the careful preparation done, the color and clear coat are applied. The spray booth then becomes an "Oven" as all of our finishes are baked to resemble that "factory finish"
Prior to reassembly, the vehicle is first polished to remove even the smallest of imperfections. A complete and thorough inspection is made of every vehicle from engine fluids to tire pressure checks.